Your browser is too old
We can't provide a great video experience on old browser
Update now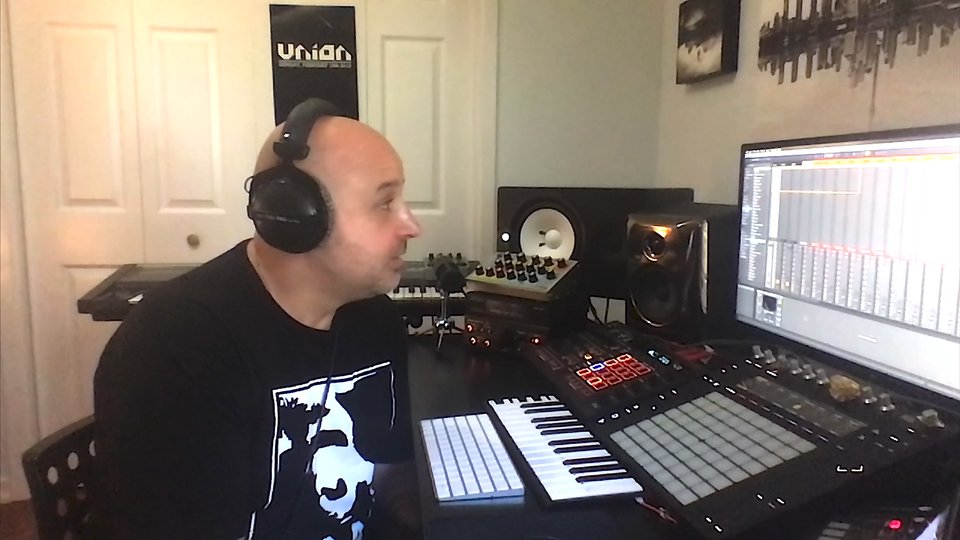 10:36
Getting the track started
Nathan opens up a new Ableton session and starts playing with kicks, bass's and different sounds to find something to work with.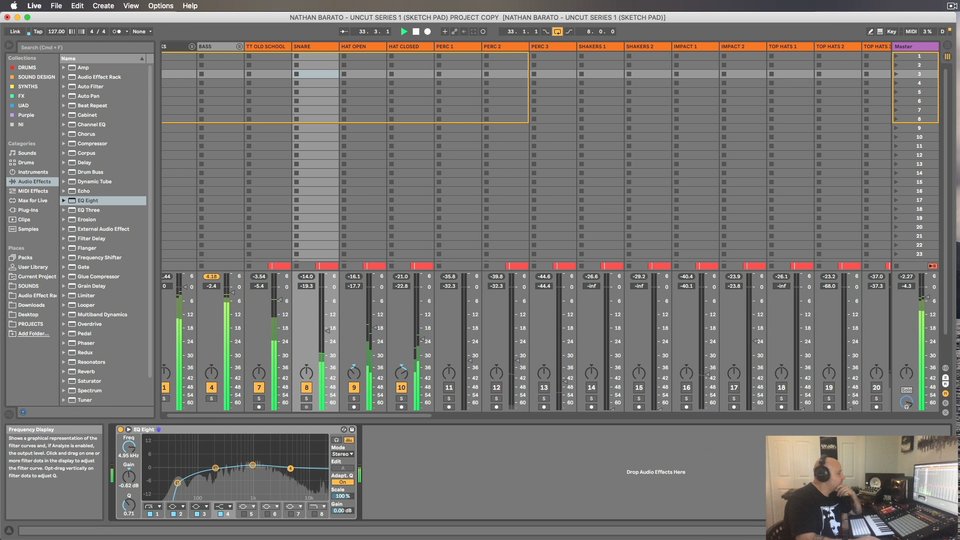 10:33
Catching a Groove 
Nathan starts to throw a bunch of sounds in his session to see which one's stick and which don't and starts arranging on the fly.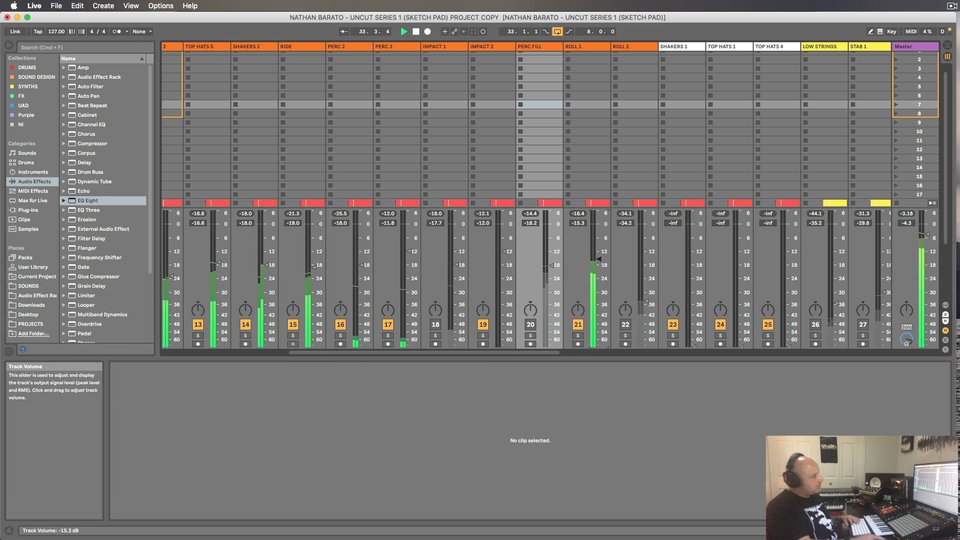 14:05
Creating Momentum
With a good vibe started, Nathan starts getting the levels right while adding some fills & accents to keep the record exciting.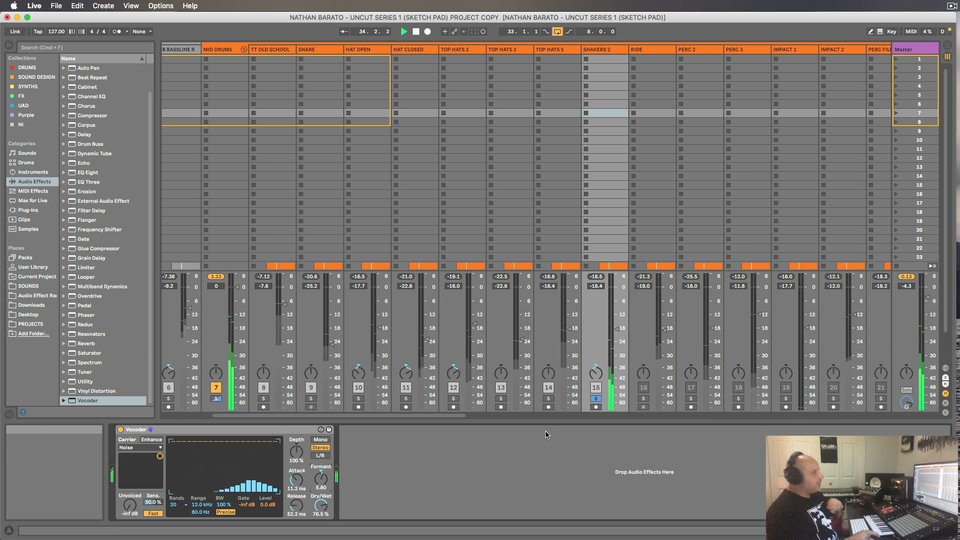 08:08
Drum Compression & Sounds Inventory
Nathan takes an inventory by muting & soloing his sounds to make sure they're really working with the groove.
13:36
Melodic Loops & Using Filters
Learn how to use Auto Filter to bring in some 'musical' sounds to compliment the drums, bass & overall groove.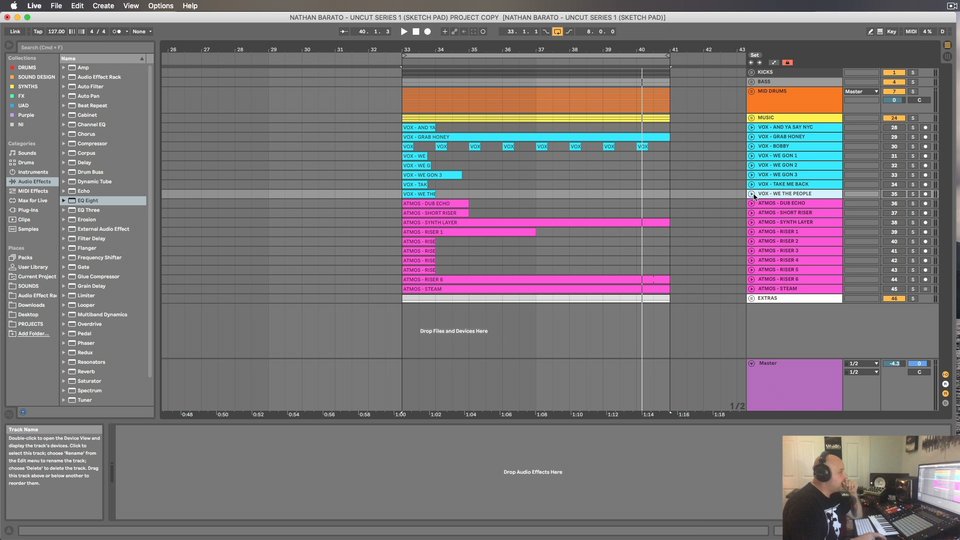 08:44
Vocal Loops
Nathan auditions and chooses the right vocal loops to fit the track.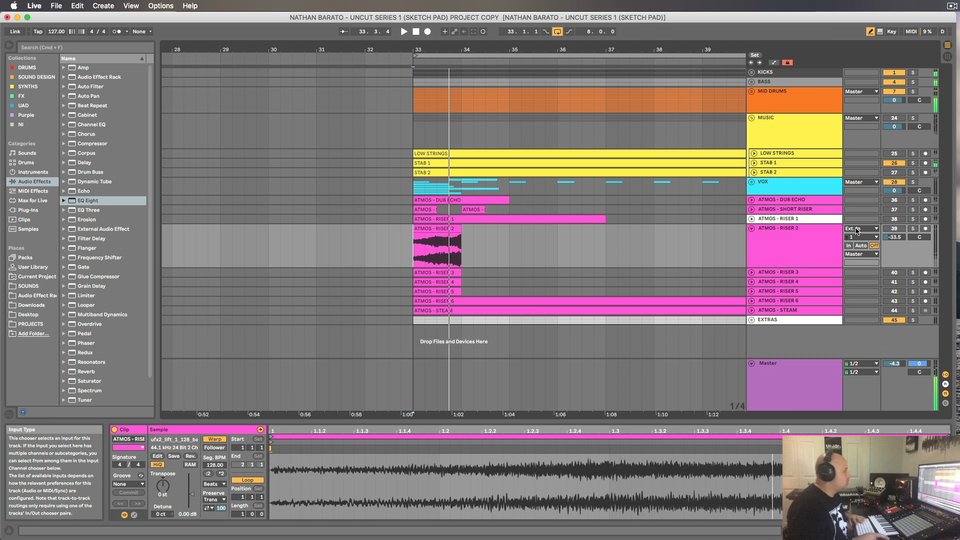 08:11
EFX
Nathan creates and adds EFX to compliment the track and keep the peak hour energy going.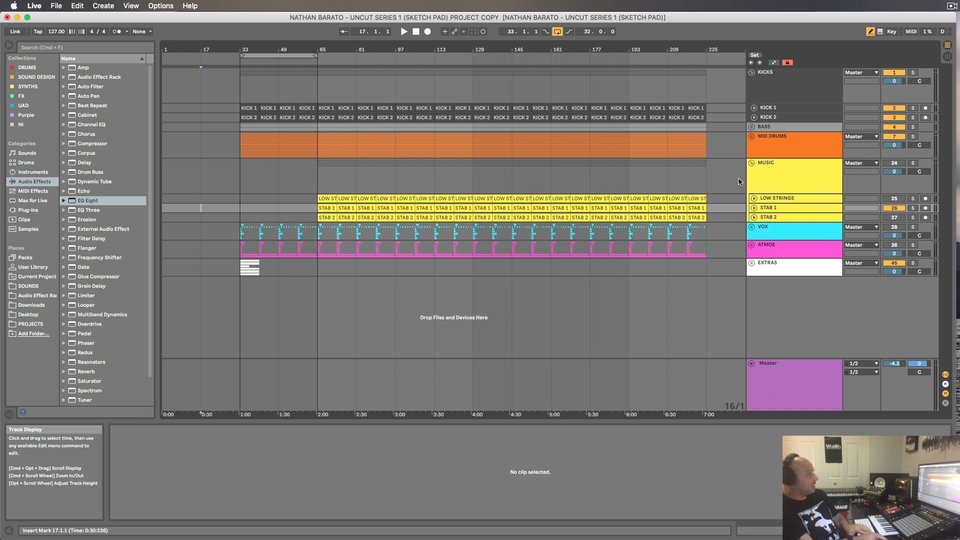 21:22
Arrangement (Part 1)
Nathan dives into the arrangement and starts to give the beat it's own personality.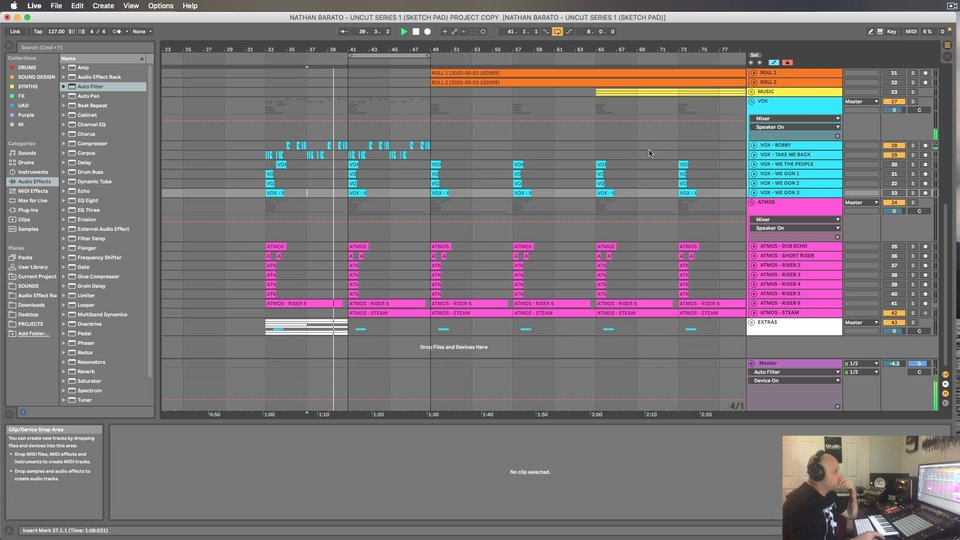 09:32
Arrangement (Part 2)
Nathan continues the arrangement journey getting it perfect for the DJ's dance floor.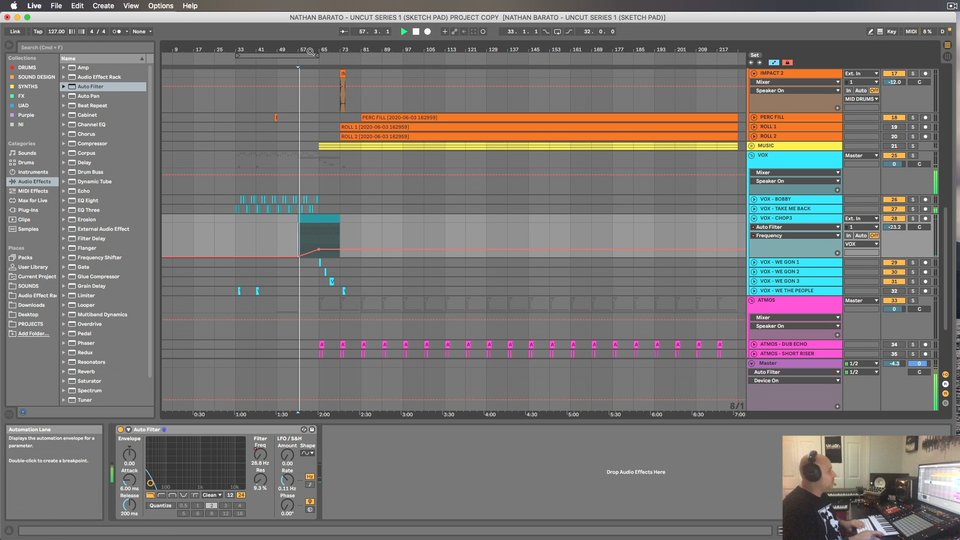 19:56
Arrangement (Part 3)
Nathan gets all the sample vocals in their perfect spots, creates some vocal scats & edits and works all-around on the vocal part as a whole.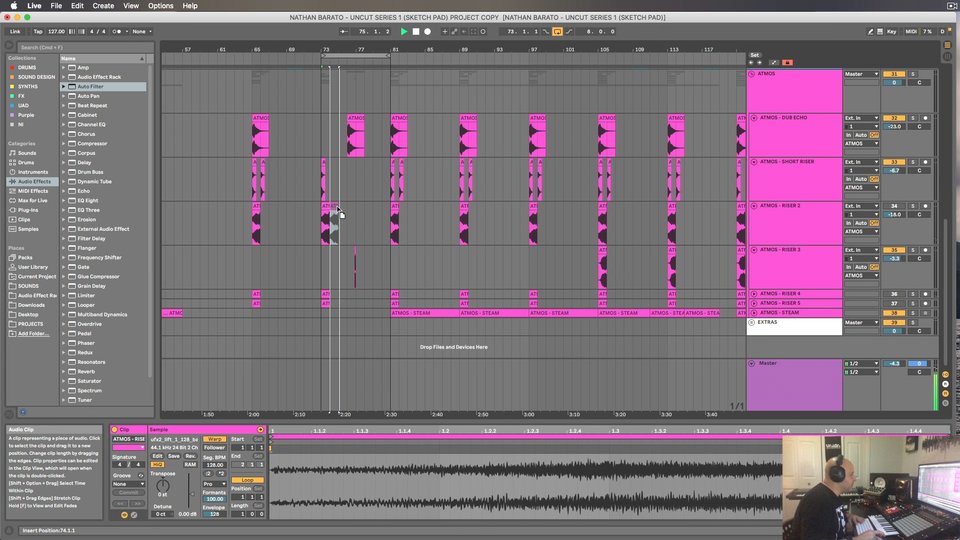 07:07
Defining the Transitions
Nathan makes sure each transition throughout the record are present and working to their maximum potential to create contrast in each section.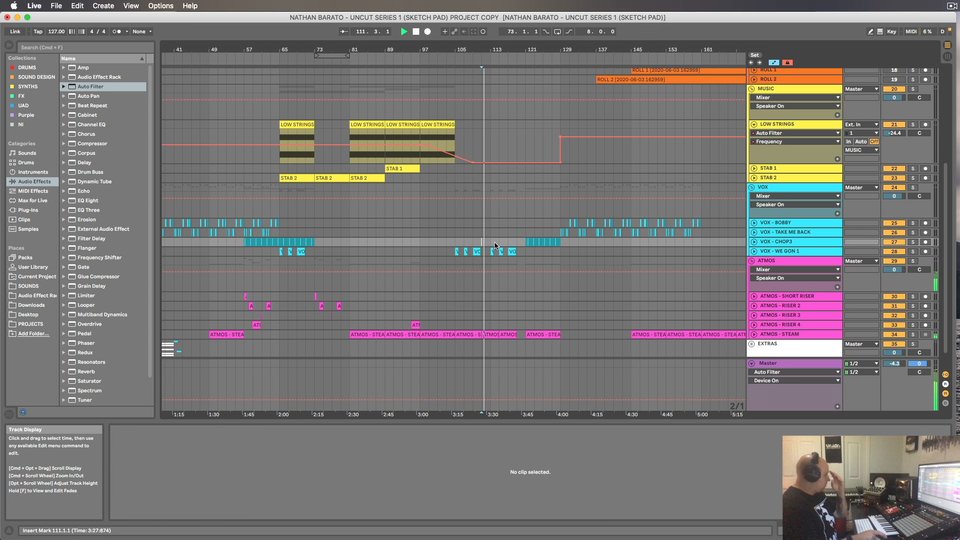 11:52
Final EFX & Vocal Arrangement
Nathan gives the track a listen through to think about what final changes need to be made and assesses where the track is at.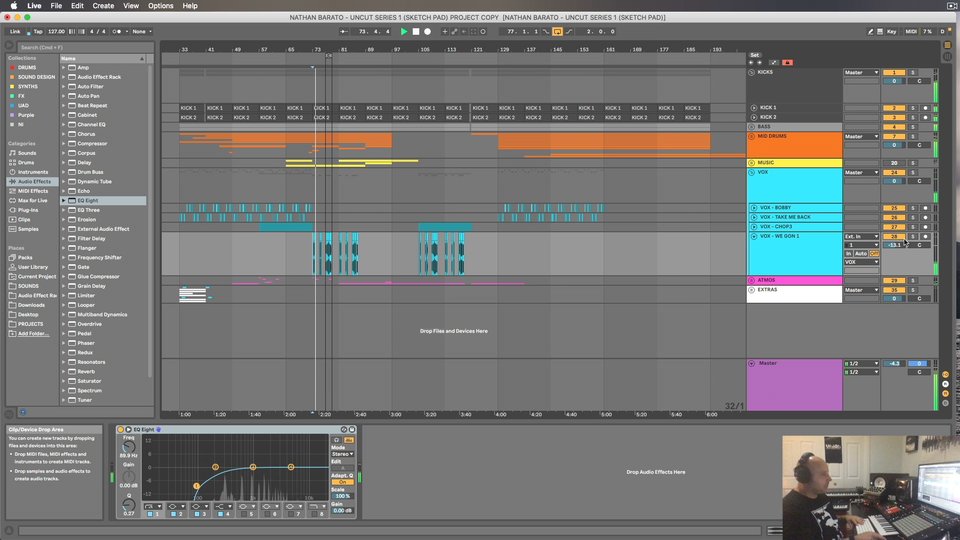 13:48
Vocal Processing & Vocal EFX
Brightening the vocals in the mix, fixing the timing and adding final delays/reverbs & automation on the vocals.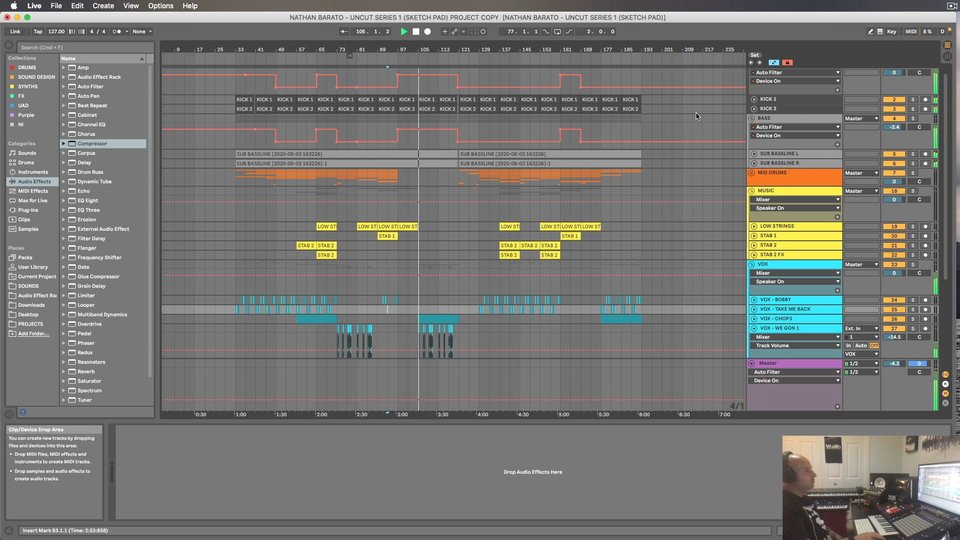 23:31
Final Creative Tweaks
Nathan adds the final tweaks on the track and gets the mix complete & DJ friendly.
11:10
Mix down (Part 1)
Nathan begins the initial mix-down process of the entire track.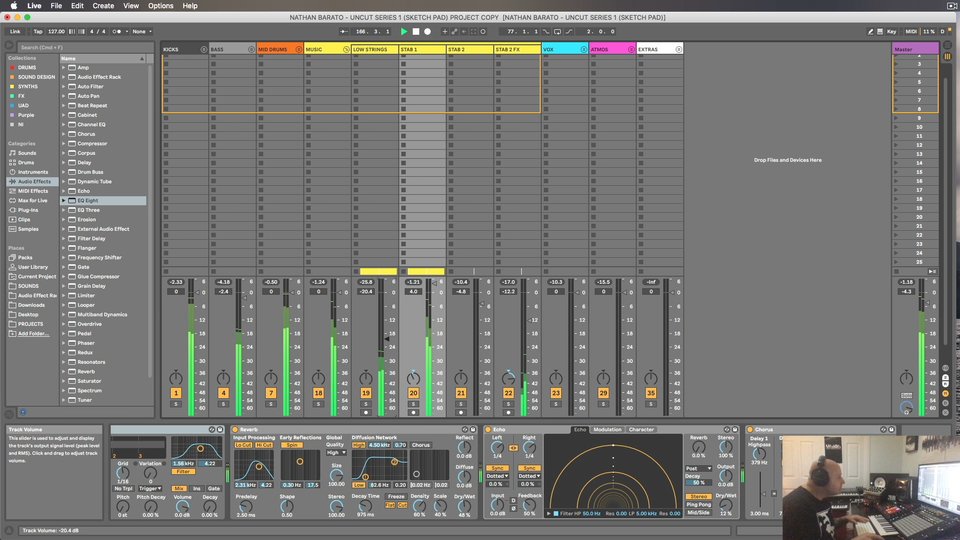 16:50
Mix down (Part 2)
Nathan continues showing more of his mix down process and refining the final parts.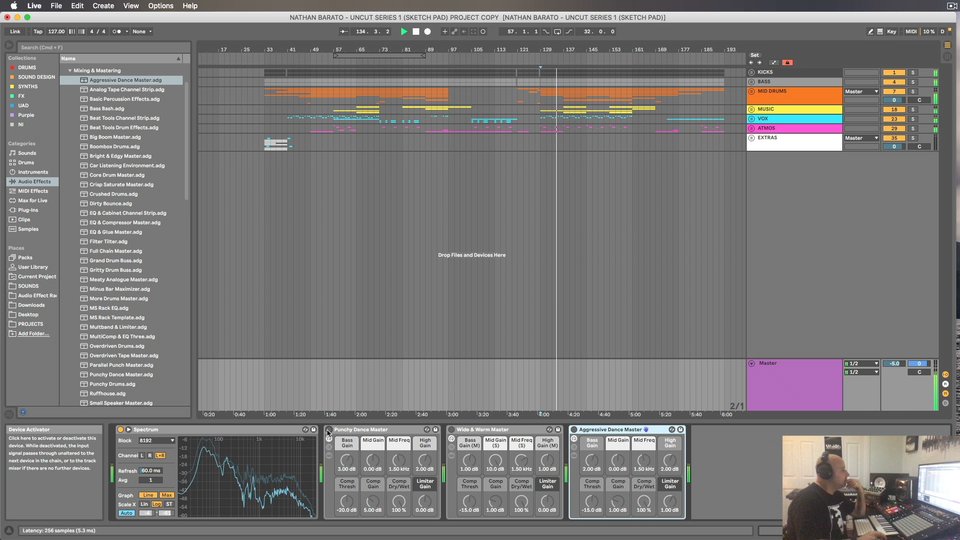 07:02
Creating the DJ Master
A DJ-friendly master pass is created focusing on making sure the record has that peak hour power.
About the course
Nathan Barato has established himself among one of the most respected producers as well as one of the most prolific DJs in the world. Whether it was Marco Carola first championing Nathan's 2012 hit "Hard Werq" which ultimately led to Nathan joining the Music On roster, or Jamie Jones deeming Nathan a new star while making Nathan's 'Wobble Talk' a staple in the Hot Creations label camp. The Toronto native has skyrocketed to international DJ prominence all the while remaining a well-respected and sought after producer.
Many credit Nathan's success to his genre diversity. His eclectic sound infuses many styles and has been recognized as one where the likes of 90's garage get sampled against the backdrop of funky techno. As a result, Nathan's music is being released on some of the most prestigious imprints in the industry, including the aforementioned Hot Creations and spinoff Hottrax, as well as Rekids, Cajual, Saved Records, MOOD, and of course, his very own Rawthentic Music label alongside his partner Carlo Lio.
As a touring DJ, Nathan is a regular at events, clubs and festivals around the world including BPM (Playa Del Carmen, Mexico), Ultra (Miami, USA), and We Are (London, UK), to venues that include Womb (Tokyo, Japan), Fabric (London, UK), WHP (Manchester, UK), Stereo (Montreal, Canada), Coda (Toronto, Canada), Output (New York, USA), Sound (Los Angeles, USA), Club Space (Miami, USA), Barn (Modena, Italy), DC10 (Ibiza, Spain), Amnesia (Ibiza, Spain), and more.
In his first-ever masterclass for FaderPro, Nathan puts on display his signature production style using a stock Ableton rig and demonstrates how anyone can utilize the DAW, without any 3rd party plug-ins, and get to a finished master production that is ready for the clubs, to shop to a label or BOTH!

DAW: Ableton Live
Total Runtime: 3.2 hours (190 mins)